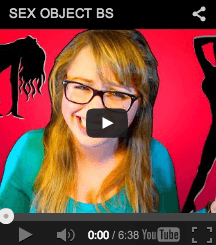 Laci Green hosts Sex+, a weekly, YouTube show covering topics related to sexuality, relationships, body image, and gender.  Her latest video, posted just last week, tackles the challenging topic of sexual objectification.  Her longest video yet (and still only a little over six minutes long!), this video provides an impressively concise and engaging overview of the issue, making real connections to sexual violence and providing numerous references and resources.   As many of us know, it can be hard to find resources about such topics that are, dare I say, "palatable" to our audiences – consider adding Sex+ to your list!  Watch here or below.
Do you have other great resources about sexual objectification?  Share in the comments section below.

Ashley Maier, MSW, MPA, has worked in the movement to end gendered violence for well over a decade. She began as a volunteer at a domestic violence shelter in Illinois, served as a hospital-based advocate in St. Louis, coordinated community health/family violence training programs for pediatric residents in St. Louis and San Diego, and managed Oregon's Rape Prevention and Education (RPE) grantees and program. Ashley is a contributing author to Lantern Book's 2013 publication, Defiant Daughters: 21 Women on Art, Activism, Animals, and The Sexual Politics of Meat and is creator of the 2015 book, Circles of Compassion: Connecting Issues of Justice.