Sex Object BS: New (short!) video addresses sexual objectification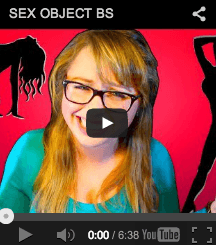 Laci Green hosts Sex+, a weekly, YouTube show covering topics related to sexuality, relationships, body image, and gender.  Her latest video, posted just last week, tackles the challenging topic of sexual objectification.  Her longest video yet (and still only a little over six minutes long!), this video provides an impressively concise and engaging overview of the issue, making real connections to sexual violence and providing numerous references and resources.   As many of us know, it can be hard to find resources about such topics that are, dare I say, "palatable" to our audiences – consider adding Sex+ to your list!  Watch here or below.
Do you have other great resources about sexual objectification?  Share in the comments section below.
One response to "Sex Object BS: New (short!) video addresses sexual objectification"