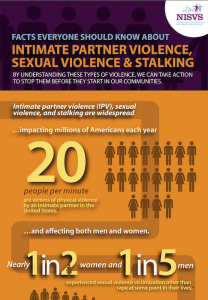 The CDC has released a new infographic using data from the latest NISVS findings. Data in the infographic  include:
How many Americans are impacted by intimate partner violence
How many men and women experience sexual violence
How many people experience rape and stalking at a young age
Breakdown of who experiences rape, intimate partner violence, and/or stalking by ethnicity, income, sexual orientation
Long-term health consequences of victimization
This infographic can be great to use in your materials for Domestic Violence Awareness Month and beyond.

Deena is a Training and Technical Assistance Coordinator. She began her work toward ending sexual violence as an evaluator of a school-based prevention program in North Carolina. Before that, she volunteered as a peer educator to promote sexual health and well-being among young adults.