Reaching audiences and identifying asks: Colorado Advocacy in Action Conference 2015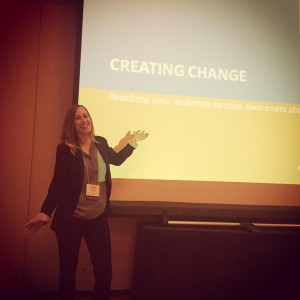 How do we reach our audiences? Better yet, how do we create change? I explored these questions last Monday, June 15, at the Colorado Advocacy in Action Conference in Vail, Colorado. After David Lee spoke last year, we were pleased to be invited again this year, this time to present a three hour, two-part skills building session.
Before the session, I asked Los Angeles-based marketing professional, Benjamin Alexander, for a brief definition of marketing:
Marketing is the combination of research, planning, and communication initiatives that are used to promote or sell ideas, products, or services," he quickly replied. And that is exactly what we talked, about, with heavy focus on planning.
Throughout the session, I led participants through a process of identifying their audience(s), their asks (desired change), and their strategies for preventing sexual violence in each of their unique communities. I was particularly impressed by participants' commitment to honoring the communities and sub-communities with which they work. Trusting community members to define the problem and identify solutions that work for them, a central message of my training (and of PreventConnect's 2015 web conference series) was not a hard sell in Colorado – we could have spent an entire day doing community asset maps!
Early on, one participant commented that she appreciated the language used in my presentation. Try to identify the language and why she appreciate it in the presentation slides below (hint: it has to do with using positive language) and feel free to use the handouts in your own work and trainings.
Materials: