Thank you for completing the evaluation for the PreventConnect web conference.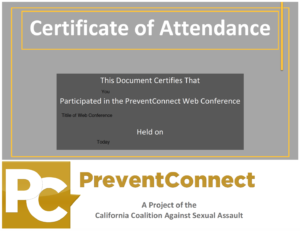 You can download a certificate of completion.  This certificate should be completed only after completing the evaluation for this web conference
Materials and resources from the web conference can be found on PreventConnect's web site.
Recordings of most web conferences are available within a few days.

David S. Lee, MPH, is the Director of Prevention Services at the California Coalition Against Sexual Assault where he provides training and technical assistance on prevention. David manages the national project PreventConnect, an online community of violence against women prevention practitioners, funders, researchers and activists. For over 27 years David has worked in efforts to end domestic violence and sexual assault.