Teen Dating Violence Awareness and Prevention Month 2018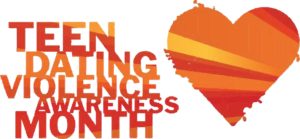 February is Teen Dating Violence Awareness and Prevention Month (#TeenDVMonth) and an opportunity to highlight efforts to prevent teen dating violence and the vast landscape of youth activism.
The National Resource Center on Domestic Violence (NRCDV) has activities planned each Tuesday and Thursday in February including a podcast series sharing the stories of young social change activists, an #ImAnActivisit Twitter chat, and a webinar looking at the intersections of race, gender, and violence, and the criminalization of marginalized girls. For more information on the events that NRCDV has planned, be sure to check out their calendar.
Break the Cycle also has a variety of tools, resources, and activities planned throughout February around their youth-driven #TeenDVMonth theme of Healthy Me, Healthy We! Check out their #TeenDVMonth Checklist for ideas on how to create change in your community this month and all year long.
Preventing teen dating violence, and all violence, requires action year-round. Last March, Raliance convened a group of young leaders and activists in Washington, D.C. for the ThisGEN Youth Summit. These change makers built a collective momentum to end gender-based violence in one generation through participation in workshops, activities, and a call to action. Earlier this month, youth leaders, including participants from ThisGEN, gathered at the National Football League's Pro Bowl Weekend to continue strategizing around ending violence in their communities. Across the country, and the world, young people play a significant role in ending violence.
Explore more about youth activism and preventing violence:
Teen Dating Violence prevention resources: