Teaming Up: Power of Sport and Public Health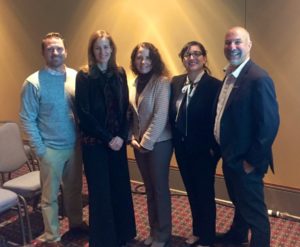 This week, PreventConnect attended the American Public Health Association (APHA) Annual Meeting in Philadelphia to share how sport is an important part of the solution to end sexual violence. In a session on Monday entitled "Sport as a platform to advance a culture of prevention," Director of Prevention David Lee discussed the power of sport and athletics to promote well-being and advance a culture of prevention. He also highlighted the roadmap to create change from RALIANCE's Sport + Prevention Center.
Other session panelists included Dr. Kathleen Basile of the CDC's Division of Violence Prevention, who spoke about how middle school sports involvement contributes to better understanding sexual violence in high school; Jessica Wagner of the NCAA's Sport Science Institute, who spoke about the role of the NCAA in creating health promotion for college campuses; and Inside Outside Initiative's Jody Redman, who shared her experience of reclaiming the educational purpose of high school sport for prevention.
The next day ushered in a full session entitled, "Sport as a platform to advance a culture of health." The discussion focused on how to build a network that advances prevention and brings together public health best practices to sport. This session was facilitated by David Lee, NCAA's Jessica Wagner, and Jeff Milroy of Institute to Promote Athlete Health & Wellness at the University of North Carolina Greenville. From researchers, athletic trainers, athletes, sports management, coaches, officials, and parents, it was clear from the discussion that there is tremendous interest in building a network dedicated to using the power of sport to foster healthy athletes and communities.
Despite the headlines these days exposing high-profiles cases of unchecked sexual abuse in different in sports, our productive sessions at the APHA annual meeting shine a light on how sport is a powerful and positive force in our society. It has the potential here to instill important values in athletes, shape positive attitudes, and build strong communities.
Click here to get the slides from David's presentation.