Creating Emergent Spaces for Sexual Violence Prevention During COVID-19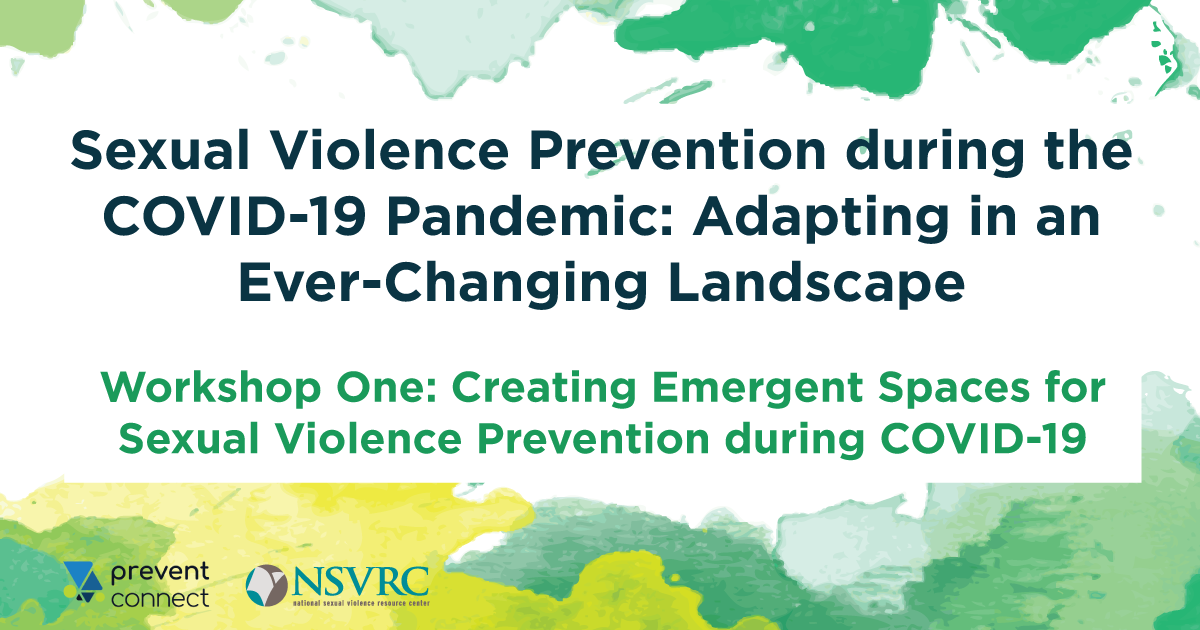 This web conference is part of a series with the National Sexual Violence Resource Center "Sexual Violence Prevention During the COVID-19 Pandemic: Adapting in an Ever-Changing Landscape." Registration and web conference materials are available on the National Sexual Violence Resource Center's website, linked below.


(This web conference will only occur once. It will be recorded and archived on NSVRC's website.)
WEDNESDAY DECEMBER 16, 2020
| | |
| --- | --- |
| TIME ZONE | TIME |
| HAWAII (HST/HDT) | 9:00 AM -10:30 AM |
| ALASKA (AKST/AKDT) | 10:00 AM – 11:30 AM |
| PACIFIC (PST/PDT) | 11:00 AM – 12:30 PM |
| MOUNTAIN (MST/MDT) | 12:00 PM – 1:30 PM |
| CENTRAL (CST/CDT) | 1:00 PM – 2:30 PM |
| EASTERN (EST/EDT) | 2:00 PM – 3:30 PM |
Building trust and relationships with collaborative partners and community members is a critical part of preventing sexual violence, Physical distancing can make community building and conversation difficult – but it's the people that make the space, not the shared location.
The North Carolina Coalition Against Sexual Assault recently published a document applying the framework of adrienne maree brown's book Emergent Strategy to practice emergent spaces in our prevention work. Join the authors of "Emergent Space: Finding an Alternative" on this web conference to discuss potential applications of emergent spaces, explore the need for intentional connection in prevention spaces, and identify ways to center humanity and interconnectedness while in a physically distant, often virtual, context.
OBJECTIVES
Describe the core elements of emergent spaces
Identify examples of how the core elements of emergent spaces can help prevent sexual violence
Describe strategies to create emergent spaces virtually
Discuss opportunities for connection, community, and leading with shared values in creating emergent spaces
HOSTS/FACILITATORS: Mo Lewis, National Sexual Violence Resource Center; Ashleigh Klein-Jimenez & Tori VandeLinde, PreventConnect and CALCASA
MATERIALS:
Web Conference PowerPoint slides [PDF]
GUESTS:
Shareen El Naga, UNC-Chapel Hill
Montia Daniels, UNC-Chapel Hill
Chris Croft, North Carolina Coalition Against Sexual Assault