Standing Up and Speaking Out Through Athletics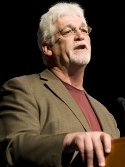 On May 21st and 22nd, 2009, CALCASA's PreventConnect program staff were pleased to record several podcasts at A CALL TO MEN's 4th National Conference in New York City, NY.
This presentation was given by Joe Ehrmann, coach, lecturer and President of Coach for America and Building Men and Women for Others.
In this presentation, Coach Ehrmann discusses the influence of sports in the construction of masculinity and the role of athletes in the prevention of violence against women.
(23 min) Presentation by Joe Ehrmann