Eve Ensler on the Global Movement to End Violence Against Women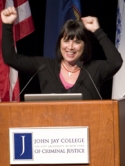 On May 21st and 22nd, 2009, CALCASA's PreventConnect program staff were pleased to record several podcasts at A CALL TO MEN's 4th National Conference in New York City, NY.
The second day of the conference was also greeted by Eve Ensler, playwright, performer, activist, author of the Vagina Monologues, and founder of V-Day, a global movement to stop violence against women and girls.
Her comments provide a global perspective on the movement to end violence against women — in particular, systematic sexual violence against women in the Congo.
(29 min) Greeting by Eve Ensler