Working with Offenders and the Role of Programs for DV Offenders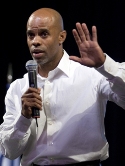 On May 21st and 22nd, 2009, CALCASA's PreventConnect program staff were pleased to record several podcasts at A CALL TO MEN's 4th National Conference in New York City, NY.
This is a presentation by Ted Bunch, Co-Founder of A CALL TO MEN. He discusses the belief systems and behaviors of men who are violent and abusive, as well as the importance of accountability in appropriate program development for domestic violence offenders.
(33 min) Presentation by Ted Bunch