Developing the Boys to Men program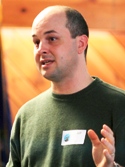 (22 min) In this interview, Jeff Morrill talks about Boys to Men, an educational program in Portland, Maine, focused on supporting the development of adolescent boys into healthy, non-violent men. He describes the origins of the Boys to Men program, the construction of its curriculum, and the ways that it uses bystander intervention training as a core component of its work.
Jeff Morrill is the Program Coordinator for Boys to Men. You can learn more about Boys to Men at its Website.
[podcast]http://www.preventconnect.org/podcasts/V28 Jeff Morrill.mp3[/podcast]