Policy: A run away train or the tracks for social change?
By Cordelia Anderson and Joan Tabachnick, guest bloggers and hosts of the Ending Child Sexual Abuse Web Conference Series that PreventConnect is co-sponsoring with Ms. Foundation for Women.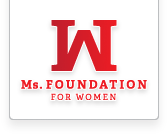 The stories behind our laws and policies related to child sexual abuse have dramatically changed since anti-rape activists first begun to break the silence around the issue in the early 1970s. With stories from brave survivors such as Marilyn VanderBur, as well as the countless number of individuals coming forward as survivors in communities around the country, legislators felt a pressing need to respond. In the 1970s and 1980s, laws were enacted that established mandatory reporting, the Victims of Crime Act was passed, and funding for school-based child sexual abuse prevention programs were created. These policies were landmark decisions, raising awareness of the issue in hopes of establishing community responses to prevent child sexual abuse. As we moved into the 1990s and 2000s, things shifted as the news media became dominated by individual tragedies and sweeping new laws were passed in memory of individual children missing, abducted, or killed by strangers. These laws—including the Jacob Wetterling Act, Meghan's Law, and the Adam Walsh Act—shifted the nation's focus toward crime and punishment, emphasizing sex offender registration, community notification, and stricter sentencing of sex offenders.
While the stories of Jacob Wetterling, Meghan Kanka, and Adam Walsh are no doubt tragic and horrifying, what was missing in the legislation that followed each of these incidents is the recognition that child sexual abuse is most often perpetrated by those known and trusted by the victim. As such, the notification and registry policies miss the mark when it comes to preventing abuse in our homes, schools, and playgrounds where abuse most often occurs. As we consider policies for the next decade, we must look back in order to look forward, asking ourselves: what are the "Policy Changes that Help and Hinder our Ability to End Child Sexual Abuse?"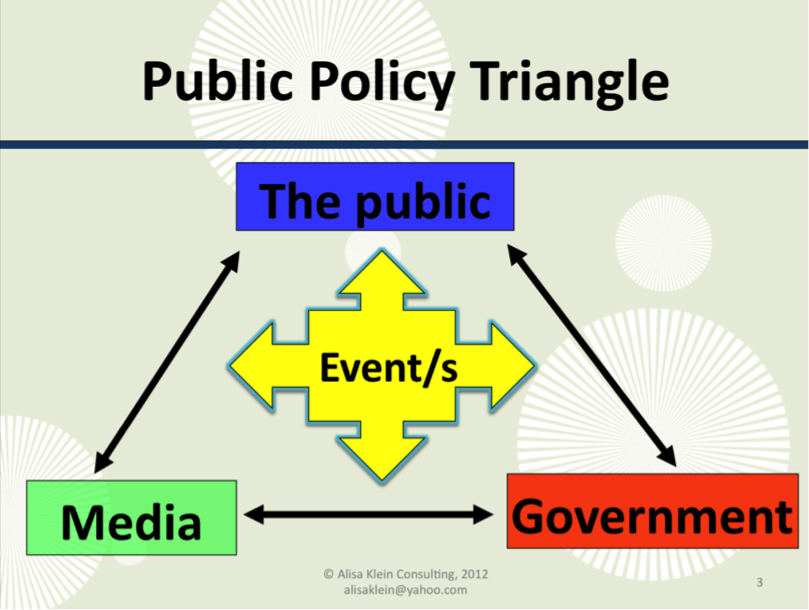 In this year's final web conference, we focused on this very question. The web conference began with presenter Alisa Klein, who grounded the discussion in an overview of how public policy is created, defining policy as the "the structures, norms and culture we create and perpetuate around issues of social significance." Alisa then walked participants through a "policy triangle" – referring to a schema that she developed to highlight the fact that policy is created by the push and pull of many forces including events, media, public opinion, and government. In particular, the triangle highlights the importance of how events shape our understanding of and responses to all issues, including child sexual abuse.
Building on this framework, presenter Christi Hurt of Prevent Child Abuse North Carolina shared her story of how she became involved in policy approaches to child sexual abuse prevention in North Carolina. Christi aptly referred to policy in this arena as a "runaway train," noting that policy is being made every day and we can either decide to get on the train or it will leave us behind. She offered a case study of the North Carolina Coalition to Prevent Child Sexual Abuse and its work to change public policies related to child sexual abuse in that state. She described how a disparate group of individuals and organizations with some common concerns initially came together and in time, created a multi-disciplinary coalition working together across the state. Together they collected important information about what communities want, what professionals working in a variety of allied fields need, and what the research can say about policies that do and don't work. The Coalition then organized itself to answer some of the key questions that emerged, such as "what do sex offender management laws need to look like in order to be effective?" and "how do we prevent child sexual abuse from ever happening in the first place?"
Together, Alisa and Christi helped to make the work of child sexual abuse policy change not only accessible, but also offered practical suggestions for how to begin. As always, web conference participants added to the discussion by sharing ideas and resources from their local communities. Most importantly, the presenters and participants helped us pair policy with hope—hope that when we work together, we can change the narrative of child sexual abuse and introduce policies that truly build safer communities across the nation. Imagine all of that within a one hour web conference – this one is surely worth listening to!
Click here to learn more about the Ending Child Sexual Abuse Web Conference Series. Slides and recordings are available for each web conference. Sign-up to learn more about upcoming sessions.