Responding to the gang rape in India: Five Lessons about preventing sexual violence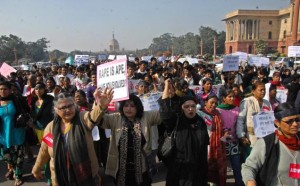 In the aftermath of the horrible gang rape on a bus in India, we are seeing a remarkable public outrage about rape. This event has catalyzed a movement of women and men committed to addressing this often unnamed pervasive problem.  In the opinion piece by Sohaila Abdulali in the New York Times she stated
…when I was 17 I could not have imagined thousands of people marching against rape in India… yet there is still work to be done. We have sent generations constructing elaborate systems of patriarchy, caste, societal and sexual inequality that allow abuse to flourish. But rape is not inevitable like the weather.
I believe that change is possible. This is a moment where we need to think about social change and prevention.  And we need to get together to plan and do this hard work.
Here are 5 lessons for preventing sexual violence that I have learned from recent events in India.
1. Rape is a problem everywhere (not only in India)  In a recent Letter to the Editor to the New York Times, Quinnipiac University  professor of anthropology Hilary Haldane critiqued recent editorial and opinion pieces that had noted that while "India has terribly high rates of sexual assault and other forms of violence against women, they do not mention the fact that violence is a global epidemic, not solely a byproduct of Indian culture.  Our similarly high rates of sexual assault and other forms of gender-based violence in American culture seem to be accepted by a collective shrug and a 'blame the victim' mentality." Recent studies like the National Intimate Partner Sexual Violence Survey (nearly 1 in 2 women (44.6%) and 1 in 5 men (22.2%) experience sexual violence throughout their lifetime) demonstrate the pervasiveness of sexual violence in this country. The rape in India reminds us that we need to take action everywhere.
2. Silent No More  The rape prevention movement of the 1970s started with Speak Outs Against Rape where survivors came forward with their stories in order to imagine a world where people would not have to experience rape. Earlier this week Jyoti Singh's father thought the same as he stated in an interview with the Mirror News:
We want the world to know her real name. My daughter didn't do anything wrong, she died while protecting herself. I am proud of her. Revealing her name will give courage to other women who have survived these attacks. They will find strength from my daughter.
Speaking out is a catalyst for change. Let's listen to those voices and move to advancing solutions.
3. Bystanders need to make a difference  News reports describe how it took hours for someone to intervene in the Dehli gang rape. The bystander approach recognizes that anyone (and indeed everyone) can be part of the solution.  Let's figure out how to find ways to create a culture where it is expected that people will interrupt not only situations of violence and abuse, but also intervene in situations that contribute to the environment that makes rape acceptable.
4. Remix Manhood Preventing rape is tied to transforming the dominant forms of masculinity that celebrate men's sexual conquest of women into healthy forms of masculinity that respects women and value men taking action to prevent men's violence against women.  It is not only in India that we see the concept of masculinity support an environment that is unsafe for women.  It time to do more than "engage men" – we have to expect men to take action to create change.
5. Collective action is powerful In Hilary Haldane's editorial she states "We could learn from the Indian response to the recent horrific death of a young medical student: collective action and demands for change."  There are many recent examples of primarily women (with some men) working together to build a movement. For example SlutWalks demonstrate outrage over a victim blaming statement from a police officer and Hollaback gives voice to demands to prevent street harassment. Now there are thousands of people in the streets in India working to create change. On February 14, 2013 many of us will join One Billion Rising against rape and domestic violence. The momentum of that action, rallies in India, and other protests can set the stage for creating the changes in our society necessary to end violence.
Of course, rape cannot be ended by the end of this news cycle, grant reporting period or even the end of the year. But we can apply these lessons to fuel our ongoing work to prevent rape.
What lessons have you learned to prevent sexual violence? And what will you do?
Photo: Sushil Kumar Verma, The Hindu, (Link to original photo.)
4 responses to "Responding to the gang rape in India: Five Lessons about preventing sexual violence"