New research and a rapey news cycle: Undoing toxic masculinity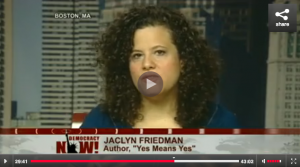 Today on her Facebook page, Jaclyn Friedman referred to the particularly "rapey news cycle" of late.  And that it is.  From sexual assault in the military, to the Cleveland kidnappings, these stories have generated a renewed look at norms around masculinity and how they contribute to rape culture, a culture that ultimately produces the events that lead to such "rapey news cycles."
In an interview about the Cleveland kidnappings and rapes, Friedman stated that creating a world free of sexual violence, "requires cultural change and undoing toxic masculinity."  Then, in an interview about the high rates of sexual assault in the military, she went on to say:
The dominant paradigm of masculinity is that we're living in and the culture is defined as masculinity is derived from power over women and it makes people very uncomfortable to suggest we have to do the work of creating new ways to create masculinity that's power with women…
Indeed, in the same interview, guests Angela Marie McDonald, discussing Vancouver's Don't Be That Guy campaign, and Politico's Juana Summers call for culture change when asked just how one can prevent sexual violence in institutions such as the military.  "It's very hard to culturally change an institution.  And that part can't come from lawmakers," Summers says about the military.
And new research confirms the need for culture change, particularly around notions about masculinity.  Psychologists from the University of Manitoba studied advertisements in men's magazines and found that they promoted the following:
Danger is exciting
Toughness is a form of emotional self-control
Violence is manly
It's fine to be callous about women and sex
These are hypermasculine beliefs, and as Huffington Post points out, "previous research has linked these beliefs to social and medical problems in men," including violence against women.
So what can be done?  The news media has picked up on a key component of prevention violence against women – examining and changing harmful notions about what it means to be a man.  Read more about innovative initiatives to do just that on our blog, learn about these norms on our eLearning site, watch one of many web conferences about healthy masculinity, and continue the conversation.