Victimization starts early; Prevention needs to start earlier
This week the Centers for Disease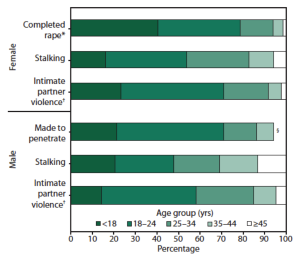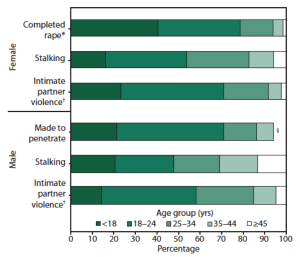 Control and Prevention (CDC) released a MMWR in Brief that presented data on the ages of first victimization sexual violence, intimate partner violence and stalking.  This report how victimization starts young. An estimated 78.7% of females who were victims of completed rape were first raped before age 25 years, with 40.4% experiencing rape before age 18 years. Approximately half of  stalking victims  were first stalked before age 25. Among victims of violence by an intimate partner, an estimated 71.1% of women and 58.2% of men first experienced some form of intimate partner violence before age 25, with 23.2% of female victims and 14.1% of male victims experienced intimate partner violence victimization before age 18.
The CDC highlighted these implications for prevention – we need to start prevention early.
Primary prevention of sexual violence, stalking, and intimate partner violence must begin early because a substantial portion is experienced at a young age. CDC seeks to prevent these forms of violence with strategies that address known risk factors for perpetration and by changing social norms and behaviors through bystander and other prevention strategies. In addition, primary prevention of intimate partner violence is focused on the promotion of healthy relationship behaviors and other protective factors, with the goal of helping children and adolescents develop these positive behaviors before their first relationships. The early promotion of healthy relationships while behaviors are still relatively modifiable makes it more likely that young persons can avoid violence in their relationships.
The key points in this report were first reported in the 2014 MMWR  "Prevalence and Characteristics of Sexual Violence, Stalking, and Intimate Partner Violence Victimization — National Intimate Partner and Sexual Violence Survey, United States, 2011."  PreventConnect has many web conferences and blog posts about data from the National Intimate Partner and Sexual Violence Survey including