#ThisGENwill: Empowering Youth as Allies, Stakeholders & Leaders
"We have a powerful potential in our youth, and we must have the courage to change old ideas and practices so that we may direct their power toward good ends" ~ Mary McLeod Bethune
Raliance — a collaborative initiative between CALCASA – PreventConnect, the National Sexual Violence Resource Center (NSVRC), and the National Alliance to End Sexual Violence (NAESV) — is dedicated to ending sexual violence in one generation. As part of this bold agenda, Raliance will convene a group of sophomore and junior high school students and activists March 6 – 10 at the ThisGEN: Youth Summit in Washington, D.C. ThisGEN aims to build a collective voice to end gender-based violence and seeks to inspire participants to take learning and activism back to their communities.
During the 5-day event, participants will build leadership skills through four tracks and explore how each of these platforms can be used to advance efforts to end gender-based violence. The tracks include:
Preventing gender-based violence requires multiple strategies to change conditions and create communities where gender-based violence does not occur. ThisGEN will culminate with a march and rally where participants will unveil calls to action identified through each of the workshop tracks. This is the generation that will end gender-based violence and we look forward to supporting these activists in their efforts. Be sure to follow ThisGEN on Facebook (@ThisGENyouthsummit), Twitter (@ThisGEN_YS), and Instagram (@thisgen_ys) to see updates from the event.
As we anticipate ThisGEN, we raise these important questions:
What does it mean to engage and involve youth as agents of social change as stakeholders, allies and leaders?
How do we shape our worktowards movement-building and supporting youth-led and youth-serving organizations in their vision to prevent and end gender-based violence and social injustice?
During Teen Dating Violence Awareness and Prevention Month, it was great to see so many conversations around youth activism and youth leadership.  Youth play an instrumental role in not only preventing teen dating violence but also addressing and ending other forms of social injustice and intersectional oppression. Youth-led social justice movements can be stronger and effective if we engage youth as key stakeholders and provide them safe and supportive spaces to share their struggles, experiences and insights. We often underestimate the power of youth and their leadership if they are provided the opportunities, resources and support.
Over the years, PreventConnect has highlighted other efforts to elevate youth leadership. Just last week we looked at the We Choose All of Us Campaign from the Idaho Coalition Against Sexual and Domestic Violence. In another blog post, PreventConnect drew attention to the Youth Empowerment Solutions for Peaceful Communities: CombiningTheory and Practice in a Community-Level Violence Prevention Curriculum by Dr. Marc. A. Zimmerman, Sarah E. Stewart, Susan Franzen, and Dr. Thomas M. Reischl. This transformative youth curriculum and community change mo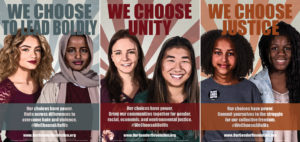 del provides the space and opportunities for youth to become a part of the solution to the problem. And this community change is possible by engaging the youth, community and the adults' capacity to work with youth. Some other examples of prevention programs utilizing this transformative model are Men of Strength Clubs, Start Strong programs and STAND & SERVE
In another blog, David Lee, wrote about an important publication, Partners in Social Change from the Washington Coalition of Sexual Assault Programs. This issue addressed youth-led efforts including Youth 360 from the Cleveland Rape Crisis Center and STAND & SERVE from Phoenix's Peer Solutions.
Important and effective prevention work is also being done to bridge the gap between traditional sexual violence prevention and sexual health promotion. The Oregon's Youth Sexual Health Plan, as highlighted in this recent Lund Report article and summarized in this blog.
Here are some other PreventConnect youth engagement, activism, and empowerment resources:
More recently, the IPV Prevention Council  released toolkits, guides and publications for those interested in working with youth-led and youth-serving organizations:
To end sexual violence in one generation, it is critical that (1) we empower and educate our youth, (2) encourage and believe in our youth leaders, advocates and stakeholders, and (3) provide support and capacity-building resources to youth-serving organizations.
**This blog was co-authored with Ashleigh Klein-Jimenez, Project Manager, PreventConnect