NPR Releases Special Series on People with Intellectual Disabilities and Sexual Violence
National Public Radio (NPR) has released the first story in their special series, Abused and Betrayed: People with intellectual disabilities and an epidemic of sexual assault.  The series brings forth stories and findings from a yearlong investigation into sexual violence and people with intellectual disabilities.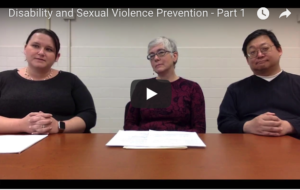 This is an important addition to the national conversation around sexual harassment and assault, and to the work to advance sexual violence prevention. Many prevention practitioners are focusing on inequities in sexual violence in their current work and centering prevention efforts on communities that experience the highest rates of violence. PreventConnect has highlighted the work that the Indiana Coalition Against Domestic Violence is engaged in to increase social inclusion for adults with developmental disabilities as a strategy to reduce risk factors for sexual violence. We also recently released a 2-part podcast discussing the intersection of sexual violence and disability with Illinois Imagines. 
Our upcoming web conference, Updates on Child Sexual Abuse Prevention with Elementary School Ages, will feature Meg Stone from IMPACT:Ability, a program of Triangle, Inc, and will include discussion around how efforts to prevent child sexual abuse can be inclusive of children with disabilities. We invite you to join us for this upcoming web conference and contribute to moving the conversation forward.
.