Housing, Disability Justice, and Sexual Violence Prevention: Reasonable Accommodation Mandates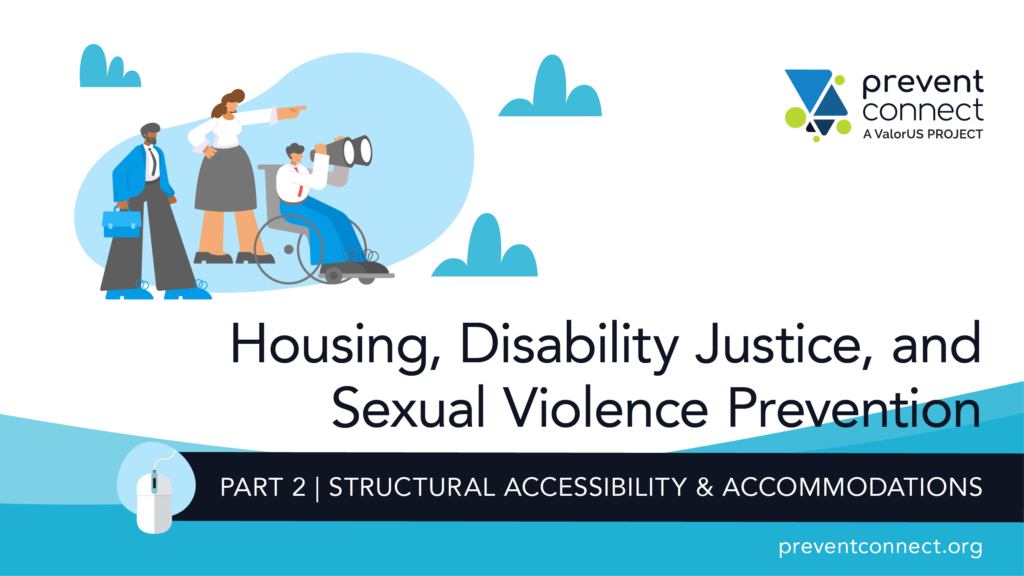 This blog was authored by Natalie Sokol-Snyder, VALOR Intern.
This blog is the second in a series on the intersections of disability justice, housing access, and sexual violence prevention. Topics covered include specific barriers to housing for people with disabilities and strategies for sexual violence prevention at this intersection.
As the movement to end sexual violence seeks to center those most impacted by violence, exploring the intersections between housing access and disability justice illuminates exciting strategies to prevent violence. Removing barriers to housing for people with disabilities both addresses risk factors and promotes protective factors for sexual violence. 
Physical, structural inaccessibility is one example of a barrier that can be addressed by sexual violence prevention organizations. 
Many neighborhoods and homes have a number of structural features that make it challenging, and often impossible, for people with disabilities to live there. For example, many sidewalks lack wheelchair accessible ramps and some building codes specify a certain width for doors that is challenging for people with mobility issues. In some cases, zoning law prohibits alterations to these features. 
Stable housing is a protective factor against sexual violence. By educating local leaders and decision makers about how housing policies and zoning laws can inequitably impact people with disabilities, people and organizations engaged in prevention work can practice community level prevention and make their communities more livable for all. For example, requiring that cities and counties allow more flexibility to people with disabilities in land use, zoning, and building regulations to make modifications to their properties, could provide people with disabilities with relief from structural inequities. 
Policies that allow residents with disabilities to waive certain zoning or building regulations that make their housing inaccessible are called Reasonable Accommodation Mandates. Providing reasonable accommodations is one way for local governments to reduce the harm caused by policies that result in the creation of inaccessible housing and neighborhoods. Some examples of zoning practices that a person with a disability might request an accommodation to waive are adding sidewalk ramps, increasing the height of a fence, lowering the entryway, or adding first floor bedrooms. 
The right to accessible housing, and therefore reasonable accommodation, is protected under federal housing law, but given the varying nature of state and local politics and policies, it is crucial for jurisdictions to reaffirm and uphold this protection. A number of jurisdictions across the U.S. have adopted reasonable accommodation language, but many still fail to do so. Prevention practitioners can play a role in educating about such policies in their local jurisdictions that promote housing access and disability justice. 
Adopting a reasonable accommodation mandate doesn't fix a zoning ordinance that is discriminatory or excuse a government from liability for discrimination, but it can ease the effects of inaccessible housing and create more opportunities for people with disabilities to more meaningfully engage with neighborhoods and communities that would otherwise be inaccessible. 
These opportunities for safe, accessible housing, and stronger community engagement are important protective factors against sexual violence. The Indiana Coalition Against Domestic Violence has more information on how eliminating physical barriers to social inclusion can reduce the risk of sexual violence for people with disabilities. Read their report, Sidewalks to Sexual Violence Prevention here. 
It is crucial to listen to and partner with people with disabilities, advocates and service providers in communities to better understand people's needs in relation to zoning laws, housing policies, and structural inaccessibility. For sexual violence prevention practitioners, advocating for programs, policies, and practices that defend people with disabilities' right to reasonable accommodation and the full enjoyment of their homes can be a useful strategy to promote the structural accessibility of buildings and neighborhoods that allow people with disabilities and their communities to thrive. 
For more information about reasonable accommodation mandates, and their applicability to disability justice and sexual violence prevention:
This blog is the second installment in a four-part series on the inner sections of disability, justice and housing. To read the first installment, click here.