Housing, Disability Justice, and Sexual Violence Prevention: An Introduction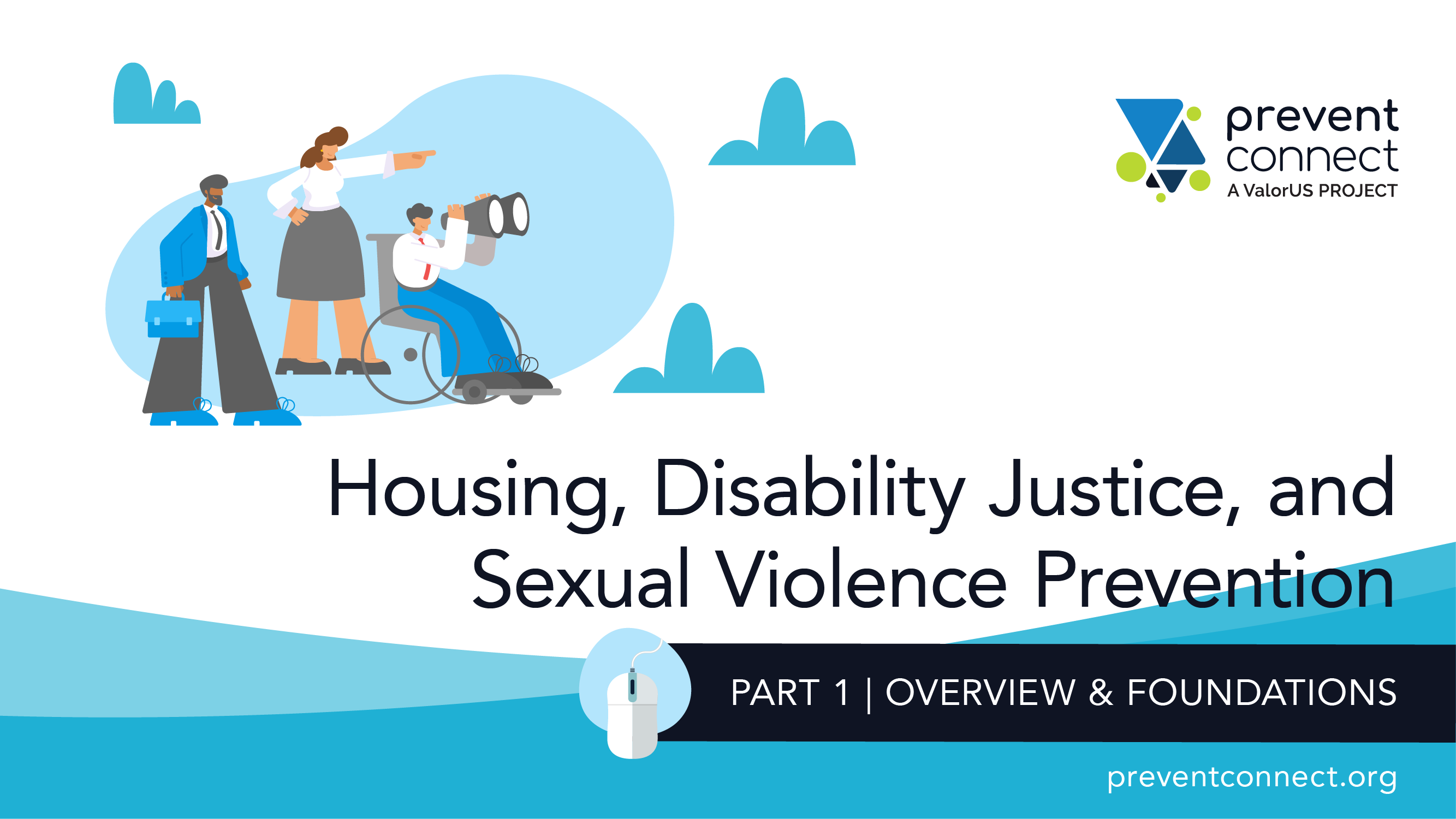 This blog was authored by Natalie Sokol-Snyder, VALOR Intern.
This blog is the first in a series on the intersections of disability justice, housing access, and sexual violence prevention. Future blogs will cover specific barriers to housing for people with disabilities and strategies for sexual violence prevention at this intersection.
Across the movement to end sexual violence, advocates, researchers, prevention practitioners are paying increasing attention to the intersections of housing justice and disability justice as frameworks for promoting autonomy, security, community, and other protective factors against sexual violence. 
The CDC has identified housing instability is an important risk factor for sexual violence: poverty is often directly linked to SV and conceptually linked to vulnerability to abuse. Nationally, people with disabilities are found to be significantly more likely to experience violence and are also much more likely to face housing insecurity. Difficulties in accessing safe, comfortable, and affordable accessible housing pose major challenges for many people with disabilities and place them at greater risk of experiencing violence.  These challenges are shaped by inequitable systems that result in disparate  outcomes across race, gender, class, and ability. By addressing these structures, we can build towards a world that works better for everyone, starting with those most impacted by racial, sexual, and ableist violence. 
Disability justice is a critical framework that asks us to center ableism in any analysis of power, with an emphasis on power sharing and interdependence. Disability justice is defined around 10 key tenets (shown below). Sexual violence primary prevention seeks to prevent violence from occuring in the first place, including a wide range of approaches and interventions that seek to change the societal conditions that make violence possible. While the movement to end sexual violence already works to center many of the key tenets of disability justice, the professional field, including prevention practitioners, advocates, direct service providers, and researchers, has much to learn from disability justice as we work to address the inherent connectedness of all forms of racial, gendered, sexual, and ableist violence.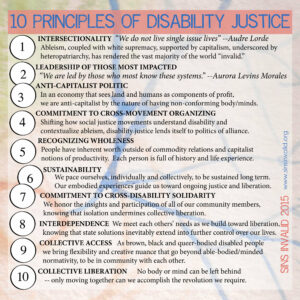 Disability justice and sexual violence prevention converge in a number of exciting ways, particularly in their shared goal of ending harm by changing structures of power. But while disability justice does engage with policy change as a strategy, primary prevention often views policy change as a key vector for enacting change at a societal level. Further, because  primary prevention efforts have begun to shift toward wider community and societal-level changes, prevention practitioners can sometimes lose the individual person-to-person relationship building that disability justice centers.
 Increasing people with disabilities' access to housing is an important tool to prevent sexual violence because it addresses both risk and protective factors by fostering independence and autonomy and promoting a strong sense of community. As the movement to end sexual violence seeks to center those most impacted, it is crucial for such efforts to be planned, led, and evaluated by people with disabilities themselves. 
Federal law guarantees people with disabilities protection from housing discrimination, but because of the varying landscape of state and local policies, the implementation of fair housing laws is inequitable and insufficient. For example, the Civil Rights Act of 1968, known as the Fair Housing Act, protects people from discrimination when they are buying or renting a home, getting a mortgage, seeking housing assistance, or otherwise seeking housing. Because the Fair Housing Act is federal law, disabled residents in all states have the right to be free from housing discrimination, but a number of states and jurisdictions offer additional protections to disabled residents. Despite these protections, a number of barriers to housing still exist for people with disabilities. Policies and practices that address these barriers are important tools for sexual violence prevention organizations seeking to connect across sectors and boost protective factors against violence. 
______________________________________________________________________________________
VALOR/Prevent Connect have a number of resources to learn more about the intersections of disability justice and sexual violence prevention:
Disability Justice and Primary Prevention
From the PreventConnect Podcast, an interview with Cierra Olivia Thomas-Williams, one of the cofounders of Indiana Disability Justice. Listen to part one, Moving at the Speed of Trust here and part two, Resources for Practitioners here. 
Advancing Disability Justice through Sexual Violence Prevention: Including Disabled Youth as Stakeholders in Our Work
A web conference on youth-led prevention work and disability justice with Skye Kantola and Cierra Olivia Thomas-Williams from Indiana Disability Justice. Watch here. 
Health Equity Approaches to Preventing Sexual and Intimate Partner Violence Session 3: Partnering with Sectors and Movements 
A web conference on health equity and intersections of sexual violence prevention and housing, health, and disability justice with Cierra Olivia Thomas-Williams, from Indiana Coalition Against Domestic Violence, Sydney Ormerod, from the Women's Resource Center, Krista D'Amico and Cynthia Roberts, from Rhode Island Coalition Against Domestic Violence. Watch here.  
Patricia Berne Plenary Speech from Valor's 2022 Statewide Conference: 
Berne is the Co-Founder, Executive and Artistic Director of Sins Invalid. Watch their speech here. 
Lydia X. Z. Brown Plenary Speech from NSAC 2021
Brown is an advocate, organizer, attorney, strategist, and writer whose work focuses on interpersonal and state violence against disabled people at the intersections of race, class, gender, sexuality, faith, language, and nation. Watch their speech here. 
What is the connection between Housing Inequality, Sexual Violence, and White Supremacy?
This resource from the National Sexual Violence Resource Center outlines the intersections of race, class, and gender that place marginalized survivors at greater risk of housing insecurity and sexual violence. Read more here.
This blog was the first in a four-part series on the intersections of disability justice, housing access, and sexual violence prevention. We will be releasing future installments throughout May at preventconnect.org. Make sure to sign up for our newsletter to get the latest installments delivered directly to your inbox.