LGBTQIA+ inclusion resources for prevention practitioners: Guides and Toolkits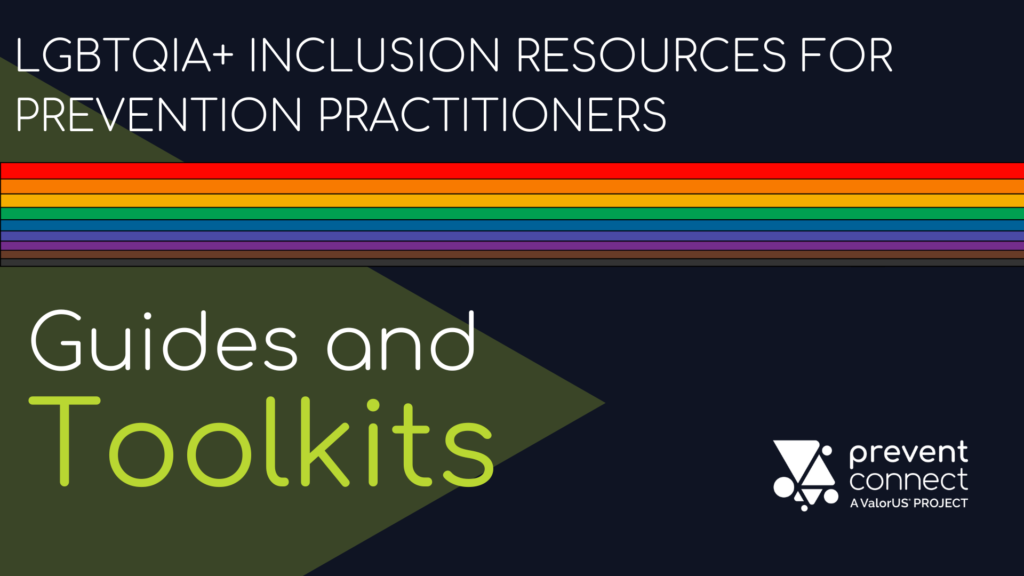 This blog is the second in a three-part series in honor of PRIDE, to build capacity toward drawing connections between Health Equity, LGBTQIA+ Justice and gender-based violence program development and implementation.
For a downloadable version of this blog, click here.
To read part 1 of this series, which focuses on data and storytelling, click here.
PART 2: Guides and Toolkits
Use the following collection of toolkits and publications to inform your internal organizational framework, program development and policies and practices.
______________________________________________________________________________________
Toolkits about direct service and advocacy 
LGBTQ2S+ Glossary of Terms for Service Providers | Coalition to Stop Violence Against Native Women
Best Practices for Serving LGBTQIA+ Survivors | National LGBTQ Institute on Intimate Partner Violence
Responding to Transgender Victims of Sexual Assault | FORGE
Sexual Violence & Individuals Who Identify as LGBTQ Information Packet | National Sexual Violence Resource Center (NSVRC)
______________________________________________________________________________________
Toolkits about Prevention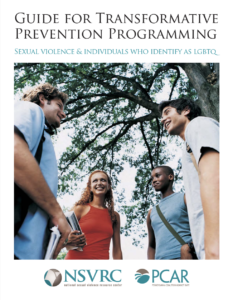 Guide for Transformative Prevention Programming: Sexual violence & individuals who identify as LGBTQ | National Sexual Violence Resource Center (NSVRC)
Gay Straight Alliances as a Component of a Sexual Violence Prevention Strategy | North Carolina Coalition Against Sexual Assault (NCCASA)
_______________________________________________________________________________________
Toolkits about Culturally Specific LGBTQ+ Inclusion
Creating Safer Spaces for LGBTQ Youth | Advocates for Youth
Our Lives, Our Choices, Our Rights! Guidebook for LGBTQ+ and Intellectual and Developmental Disabilities | Rainbow Support Group