Understanding Evidence: New online tool for making decisions about prevention
In order to develop effective and appropriate prevention efforts in our communities, we need to look at evidence to figure out the best strategy and  approach. When I refer to "evidence", I am not only looking at the best available research, but also evidence from experience and understanding the context.
I have been excited about the framework that the Centers for Disease Control and Prevention has developed  to look at evidence (as featured in several PreventConnect web conferences). Now, CDC has developed a new interactive web resource called Understanding Evidence
Understanding Evidence is a new, interactive web resource developed by CDC that supports public health practitioners in making evidence-informed decisions around violence prevention…. This free, online resource offers practitioners and others working to prevent violence important knowledge and resources for using evidence in their decision making processes…
Disclosure: I am one of the people interviewed so you will peri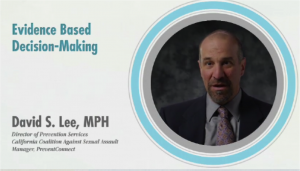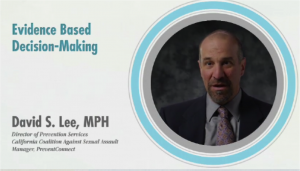 odically see and hear me when going through this online tool.
PreventConnect will host several web conference on how to use this online tool. On May 10, there will be a web conference specifically for state, territorial, tribal and national violence prevention technical assistance providers. On July 16, 2013, we will hold a web conference titled "Understanding Evidence: An Interactive Web Resource for Evidence-Based Decision Making in Sexual Violence and Intimate Partner Violence Prevention."  CDC will also provide web conferences on using this tool for suicide prevention, preventing youth violence, and ending child maltreatment.
Check our web site for details on registering for these web conferences.  Click here to learn more on how to understand evidence.