Research on Adolescent Sexual Violence and Implications for Prevention
Adolescence is an important time for growth and development, and preventing violence during this developmental period has a tremendous impact on the rest of adolescents' lives. Few studies have explored the prevalence and risk and protective factors for adolescent sexual violence victimization and perpetration. A recent study from the University of Michigan Injury Prevention Center begins to fill the gaps in adolescent sexual violence research and provides the field of sexual and intimate partner violence prevention with necessary considerations for prevention.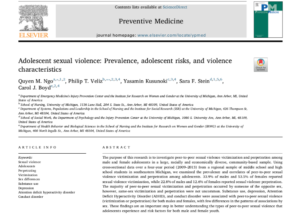 Adolescent sexual violence: prevalence, adolescent risks, and violence characteristics finds that over half of female adolescents and a third of male adolescents have been sexually victimized, and about 20% of male adolescents and 10% of female adolescents have perpetrated sexual violence. In this study, both physical contact and non-contact forms of sexual violence are included, such as sexual staring, sexual teasing, and unwanted phone calls or messages of a sexual nature. The study also finds that 15% of adolescents surveyed had both perpetrated sexual violence and been victims of sexual violence, and the majority of sexual victimization was non-physical.
Several risk factors for sexual violence perpetration and victimization were identified in this study and have important implications for prevention. By identifying the great proportion of adolescents who both perpetrate violence and have experienced violence, this research contributes to an ongoing conversation in the field of sexual and domestic violence prevention on the importance of healing from trauma to prevent violence and promote healthy communities. This conversation was also a key theme in the PreventConnect web conference Adult Survivors as Movement Leaders: Lessons Learned from the Just Beginnings Collaborative.
Preventionists have long been aware of the racial and socioeconomic disparities in sexual violence, and findings from this study ignite the need for community-driven and culturally-informed adolescent prevention strategies. This study also provides more leverage for multi-sector collaboration where mental health and sexual violence prevention intersect for adolescents. Inclusion of non-physical contact perpetration and victimization highlights the continued need for harassment and bullying prevention for adolescents, too. Physical harm is not the only harm adolescents may experience, and prevention efforts should look at preventing violence across a spectrum of behaviors, which not only impacts the harm these non-physical acts cause, but also sets a tone for culture change where all interactions are safe, healthy, respectful, and wanted.
Read more about the study here, and read the abstract here. PreventConnect recently had a conversation with Dr. Erin Bonar of the University of Michigan Injury Prevention Center. Learn more on the podcast here.
Here are a few recent PreventConnect resources on preventing adolescent sexual and dating violence: