Disability Justice and Primary Prevention Part 1 I Moving at the Speed of Trust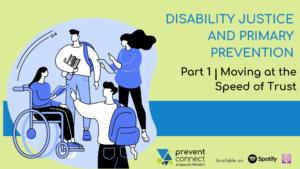 Listen to "Disability Justice and Primary Prevention Part 1" on Spreaker.
What do we do when the principles of health equity call on us to deconstruct the fabric of how our organizations run and pave a different way forward? It's a question Cierra Olivia Thomas-Williams has watched the field grapple with since she joined the movement more than 20 years ago. It's one of the reasons she co-founded Indiana Disability Justice – a grassroots organization of neurodivergent and disabled self-advocates and allies moving toward a world free of harm for people with disabilities by telling the stories of disabled survivors and helping advocates and organizations transform their spaces and policies to center marginalized communities. As Adrienne Maree Brown writes in her book Emergent Strategies, and as Cierra poignantly references in this interview, we're moving at the speed of trust and facing the challenges and transformative opportunities that come with it.
For this episode of PreventConnect, we're exploring Disability Justice as a vehicle for change. One that, when met with readiness, has the potential to transform our movement for *all survivors. 
Learn more from Cierra: