Housing, Disability Justice and Sexual Violence Prevention: Prevention Strategies for a Path Forward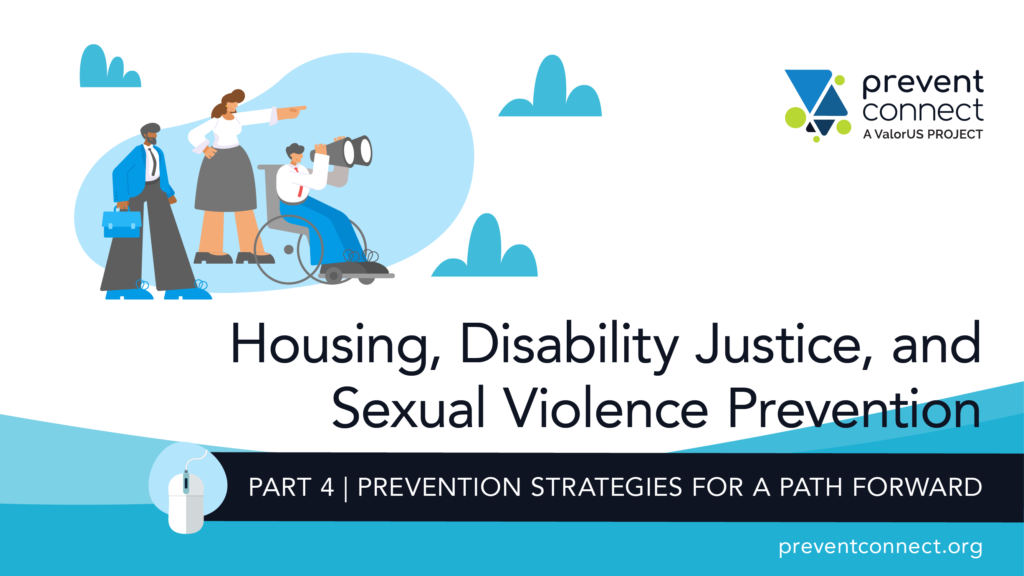 This blog was authored by Natalie Sokol-Snyder, VALOR Intern.
This blog is the third in a series on the intersections of disability justice, housing access, and sexual violence prevention. Topics covered include specific barriers to housing for people with disabilities and strategies for sexual violence prevention at this intersection.
Throughout this series, we've explored the intersections of housing, disability justice, and sexual violence prevention. As prevention practitioners integrate health equity into violence prevention approaches and strategies, it is crucial to acknowledge the policies and processes that limit access to resources for people with disabilities. To be effective, sexual violence prevention must go beyond addressing behavioral and social risk factors and address the laws and policies that create conditions where violence is more likely to happen. As we've explored in this series, barriers to accessible, safe housing for people with disabilities are widespread but prevention practitioners can play an important role in changing this. 
While there is exciting momentum across the movement to end sexual violence to center people with disabilities and highlight disability justice, our movement needs more leaders and more examples we can look to. By bringing people with disabilities and their communities into the sexual violence prevention work that you are already doing, you can be one of these examples and inspire the change needed to create a world free of ableism and all other structures of violence. 
No matter the amount of experience that an organization has with advocating for housing and disability justice, there are a number of options for ways to expand these practices, connect more deeply with disabled stakeholders, and advance both sexual violence prevention and disability justice. 
If you're a sexual violence prevention practitioner, direct service provider, or survivor advocacy organization who wants to engage more closely with disability justice:
Indiana Disability Justice, an offshoot of the Indiana Coalition Against Domestic Violence, offers a free evaluation tool for organizations seeking to improve their accessibility and better serve the needs of the disability community. IDJ offers three tiers of engagement from exploration to collaboration. Learn more about the assessment tool and get started here. 
Learn about the different models of disability, including the medical and social models. Social models, for example,  place emphasis on environmental barriers that arise from oppression and do not accommodate the diversity of people's abilities. Explore the connections between health equity and disability.
If you want to get more involved in housing justice as strategy to combat sexual violence: 
The National Sexual Violence Resource Center (NSVRC) has a large collection of resources on housing and sexual violence, many of which highlight the intersections with disability. Review the collection here. 
NSVRC is also part of a network of federal agencies, state coalitions, and local grassroots organizations called the Safe Housing Partnerships Consortium. The Consortium provides technical assistance, shares resources, and advocates for policy that supports survivors at accessing safe housing. Learn more here. 
If you are interested in policy at the state or local level:
Review the municipal code in your town and check out your state's housing laws. Do people with disabilities have the protected right to seek accommodations in their housing? Does your state provide services to keep people with disabilities in their homes? Does your state adequately fund accessible services for survivors?  If not, what role can you play to help  expand these protections? Meet with people with disabilities, advocates, and service providers in your community to learn what people's needs are. Emphasize to local leaders how important accessible housing is to you and your community. Listen to people with disabilities and provide education to decision makers around the importance of funding in-home services, building accessible housing, and the links between housing and sexual violence prevention.
As this blog series wraps up, there are a number of ways for prevention practitioners, survivor advocates, and direct service providers to plug into work at the intersection of housing, disability justice, and primary prevention. As we work to integrate disability justice into our primary prevention work, we can challenge and address the conditions that allow violence to occur and move closer to a world free of all forms of violence.