Looking Back and Looking Forward: PreventConnect Staff Reflect on 2020
This year has been fraught with challenges, heartache, grief, destruction, disaster, and violence, but this year has also provided pockets of connection, mutual care, healing, and striving for and acting towards a better society. The pandemic and its devastating consequences to health, jobs, communities, and economic security, and civil uprisings in defense of nonviolence marked a year where national attention shined on the ways in which the systems we rely on fail to protect those who are most vulnerable. Ijeoma Oluo states in her new book that largely, things "work according to design," and this year has shown violence prevention practitioners and others inspired to create conditions where violence cannot occur to seek out ways to change systems or create new systems that are designed to promote health, safety, and security for all.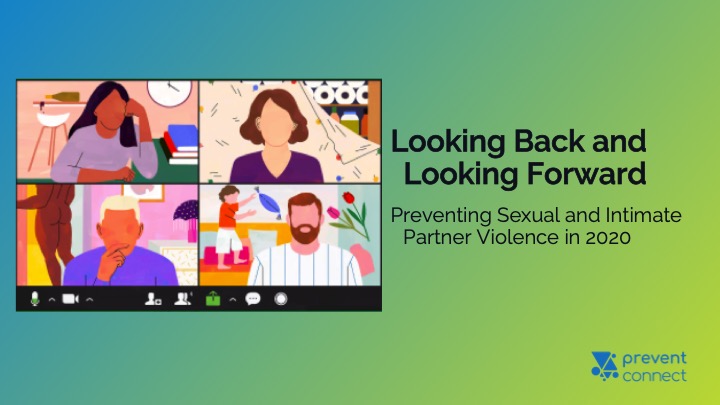 To say this year has been challenging is an understatement, as we've witnessed countless ways people and communities have been impacted by the events of this year. While we look back on a particularly difficult year, we share what keeps us going and what brings us hope for 2021 for preventing sexual and intimate partner violence.
What is your favorite PreventConnect memory of 2020?
David S. Lee, Deputy Director: In the last year, one of my highlights was sharing the work I did with my great colleague on situational prevention on college campus.
Ashleigh Klein-Jimenez, Director of Prevention: Despite such a tough year, there were some cool things that happened with PreventConnect. We celebrated our 15th anniversary and were included in NSVRC's "20 Events That Shaped Sexual Violence Prevention in the Last 20 Years." We also released web conference summaries in Spanish and have plans to expand our accessibility. (See our latest blog in Spanish here)
Tori VandeLinde, Project Coordinator: My favorite memory of 2020 was our Messaging the Connections web conference. Our guests made the connections between broad economic policies and preventing violence and promoting safety so clear.
What is a prevention challenge you saw people/communities adapt to during 2020?
DSL: How so many prevention practitioners joined PreventConnect sessions to explore to do prevention during the pandemic – especially the first few months
(See Let's Connect and Preventing Violence in Our Homes for the recordings).
AKJ: I've really loved how prevention practitioners have been thoughtful in how to adapt prevention strategies to virtual settings. Specifically, realizing that not everything makes sense to just do online. There has been a lot of reimagining and I think it's a testament to our ability to adapt and meet the needs of the communities we work in/with.
TV: Prevention practitioners in California used mask making and distribution as an opportunity to engage their communities in prevention messaging, and forged new connections with parents, adults, and others in their communities in ways we haven't thought about before.
What are you looking forward to for sexual and intimate partner violence prevention in 2021?
DSL: I look forward to building on what we are learning during the pandemic about how prevention efforts are the work to build community connections.
AKJ: I feel like in many ways our humanness (despite how messy it is sometimes) and our connection to one another have become so important to the way we advance prevention. I hope we can carry those lessons into 2021. This year stretched many of us and forced new ways of thinking. I think we've seen creativity in how we can make connections between violence prevention and broader issues of equity.
TV: I look forward to the ways prevention practitioners will continue to connect mutual aid and care with preventing violence in their communities, and seeing how people are engaging in policy change to create more just, compassionate systems that protect against violence. I also look forward to continued conversations on bringing wholeness to this work and the ways in which we interact with each other, physically distanced and otherwise in the future.