Sexual Assault Awareness Month 2023: Resources for the Field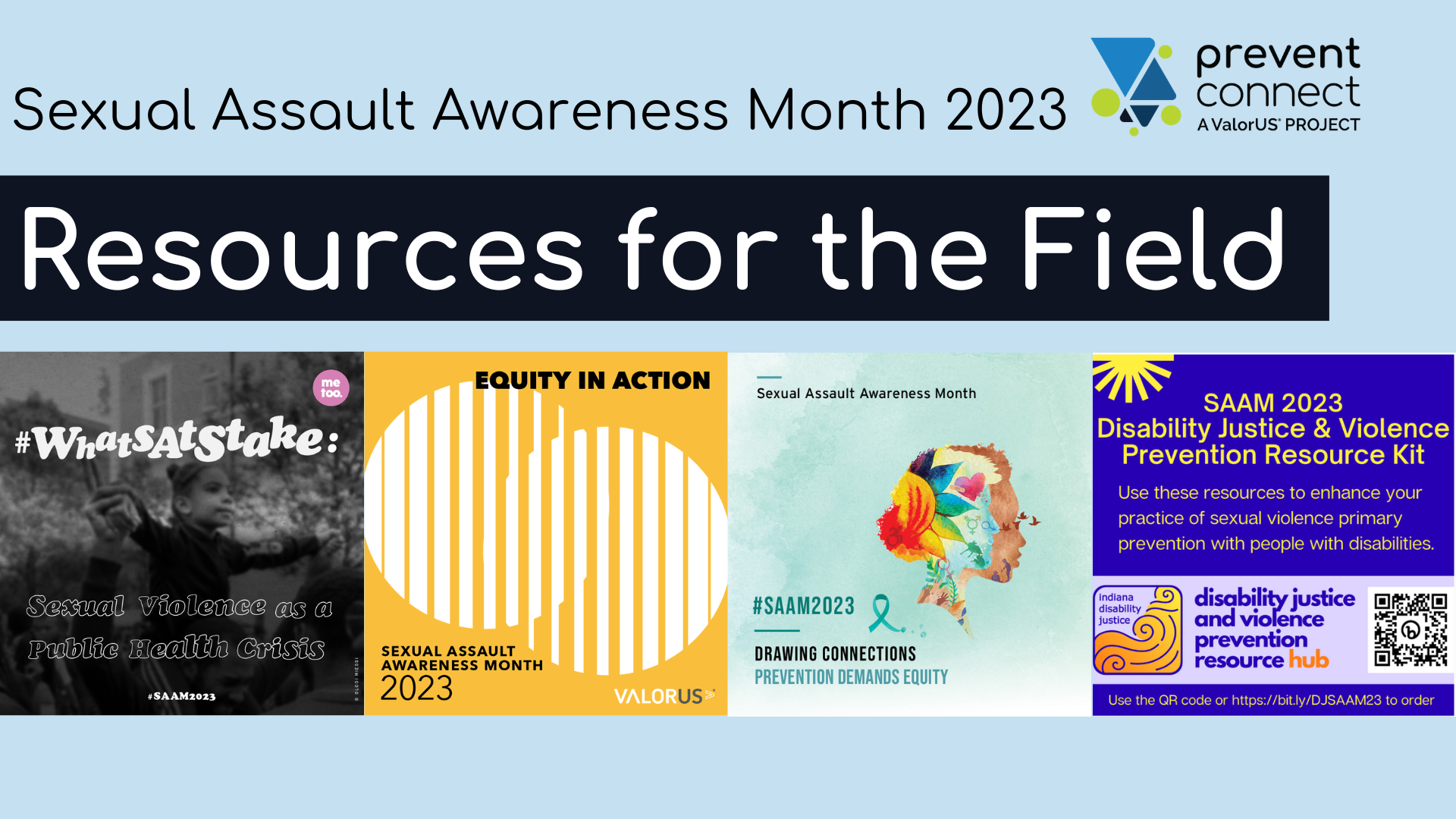 For those of us working in violence prevention, April signals the start of Sexual Assault Awareness Month (SAAM): a time for sexual assault advocates, prevention practitioners, and communities to raise awareness about sexual violence and build skills and strategies to prevent it. 
Sexual violence is prevalent across all genders, ages, races and ethnicities and communities but, as with other forms of violence, people who are impacted by oppression (i.e. racism, sexism, homophobia, ableism, etc.) are at even higher risk of sexual assault.
According to the Centers for Disease Control, cross-cutting strategies that prevent multiple forms of violence are the most effective way to prevent sexual violence. By advancing health equity, we are able to work toward a world without sexual violence by addressing why systemic violence happens, and creating communities where everyone is able to thrive. 
However, prevention practitioners have started to promote and educate about health equity more widely, integrating health equity and working within intersections of violence is a substantial shift. 
Below are several resources, events and campaigns happening throughout April to strengthen your efforts to center health equity in efforts to prevent sexual violence. 
National Sexual Violence Resource Center SAAM 2023 Campaign | Drawing Connections: Prevention Demands Equity
As part of their National Campaign, the National Sexual Violence Resource Center (NSVRC) is releasing publications specifically for people newer to anti-oppression and its connection to sexual violence, to build knowledge and skill across the movement to end sexual violence, and build racial equity and respect,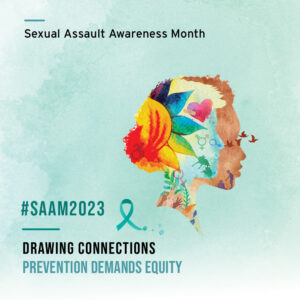 The campaign offers resources, knowledge-building tools and connection opportunities to engage people at every level in the movement to end sexual violence, and build their capacity to be agents of change. Some of the resources include:
Learn more about the campaign and get involved here. 
ValorUS SAAM 2023 SAAM 2023 Toolkit | Equity in Action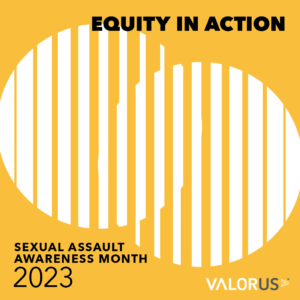 VALOR released a media toolkit for local rape crisis centers, in honor of SAAM. They are asking preventionists, advocates and organizers what equity in action means to them and how we as a movement can embody equity in our everyday work. The toolkit has social media graphics and challenges to support local organization's SAAM messaging. 
In April 11th, VALOR is challenging people to post SAAM graphics, or their own image on social media and caption with what Equity In Action looks like in their communities.
Download the toolkit here. 
Disability Justice and Sexual Violence Prevention Toolkit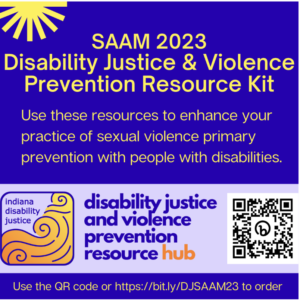 Indiana Disability Justice released a free toolkit for people interested in building their skills in practicing primary prevention with people with disabilities. The toolkit provides resources about: 
Creating protective environments and increasing social inclusion
Promoting healthy sexuality
Using accessible community and organizational evaluation
Risk and Protective factors
Personal stories and knowledge from people with disabilities.
Sign up for a copy of the toolkit here. 
MeToo "What's At Stake" Public Health Messaging Toolkits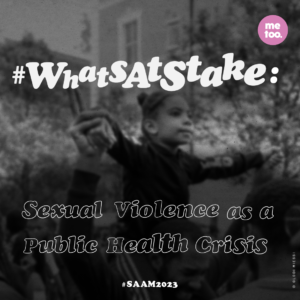 As the movement to end sexual violence moves beyond awareness towards solutions that encompass survivor healing, ally disruption, and, harm reduction and prevention for everyone, MeToo International is sharing resources and actionable items to build knowledge, share best practices and share healing and prevention recommendations. Some of the resources include:
You can read more about their campaign and get involved here. 
PreventConnect Resources on Health Equity
Web Conference Recordings
Podcasts
Downloadable Content
Health Equity Approaches to Prevention Resources